We have made some changes while we have been closed, some of which may seem strange at first but please bear with us as we are still learning.
Social Distancing
You will see some differences when you come into the Bellhouse Bar as quite a number of tables and chairs have temporarily been removed to help maintain social distancing. We ask that you do not move tables and chairs. All bar stools have been removed and there will be no seating at the bar.
On arrival you will be asked to sanitize your hands and to follow a one way system to the service area.
Indoor groups should only be in groups of up to 2 households (a support bubble counts as one household). You should socially distance from anyone not in your household or bubble. Outdoor gatherings of 6 people or less can be from any number of households but should still follow social distancing guidelines.
At The Bar
One member of your group should wait to order at the bar and the rest of your party should go and sit down.  Once you have given your order and paid, it will be prepared and brought to your table.
We know how our regulars like to help, but at the moment we would ask you not to return your empty glasses to the bar. They will be collected.
Cleaning and Sanitizing
The whole bar and toilet area will be thoroughly cleaned every morning and 'pinch points' will be sanitised regularly throughout service. The tables and chairs will be cleaned after each customer and the staff have received training on how to keep socially distanced and suitable cleaning procedures.
Government Track and Trace Scheme
We may need to ask for contact details from a member of each party as per the Government Guidelines to assist with 'track and trace' if necessary.  (We are still awaiting final confirmation on this)
Toilets
Will be deep cleaned every morning and checked throughout service and extra sanitising equipment will be available in each area.  Toilets will be on a one in and one out basis.
What's Missing?
Well, our four legged friends are still welcome, but the dog biscuit jar has been temporarily put away, together with the small library and board games.  The pool room is closed as is the children's play area.
Children and Dogs
Are still welcome but please keep them close by you at all times.
Outside
We ask that you do not move tables and chairs as they have been arranged to give optimum social distancing.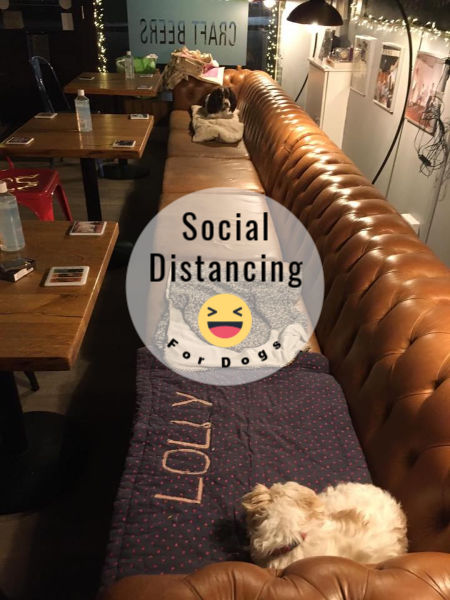 The Old Barn
Will be used to show live football only and the bar will be open with the same social distancing in place.
The bar will open 30 minutes prior to kick off and close soon after the game finishes.  There will be no standing, shouting, singing or jumping up and down!!
Separate toilets will be available in the old barn and drinks will be purchased from the bar with distancing measures in place.