For those of you who regularly visit The Bellhouse you will have seen that just before Christmas we unveiled the new Lounge Area at the top end of our bar, complete with comfy sofas a fire and ambient lighting.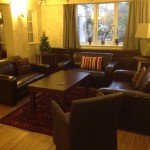 The comments we have received since completing this work have been marvelous, everyone loves it and enjoy meeting friends to enjoy a drink here.   The funds for the renovation were provided once again by The Friends of the GYCA and the work was carried out in house.  If you haven't been in to see it yet please come soon.
Over the coming weeks we will be upgrading the next section of bar adjacent to the main entrance.